Activities and leisures nearby
 * About 50 meters from the gîte : the   Via Rhôna : A bikeway coming from the idea to link the Lac Léman (Switzerland) to the Mediterranean Sea by a cycling path along the Rhône. More thant 50km are already open and available
* 100 meters from the gîte : Fishing in the private "Les Ecassaz" pond High density of "white" fishes and carps / No Catfish. Lot of positions available and easily reachable – Night Fishing authorized- Open all year long
 * 2 min driving : Belley Mireille Belle professional painter and sculptor, welcomes you on demand in her workshop in Belley to discover her artistic world.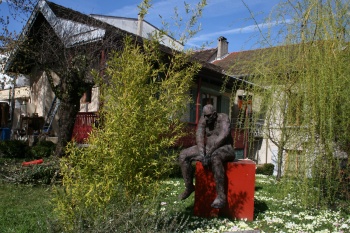 * 2 min driving : Belley : A little town where life is pleasant. Close to major cities, Belley is in the hearth of a territory of history located in a preserved environment. It's is a town to discover with its gastronomy, its History (hometown of Brillat-Savarin) its architecture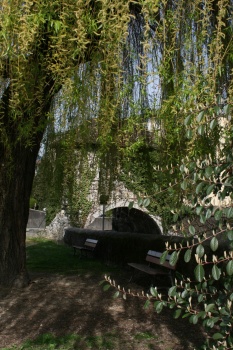 * 15 min driving : Bathing in Lakes
Lake of Virieu-le-Grand (15 km) : Free access to the beach, lifeguard in July and August
Lake of Barterand (10 km) : Entrance Fees, lifeguard
Lake of St Jean de Chevelu : Entrance Fees, lifeguard
* 15 min driving : Wine Vaults
Many wine vaults (in Vongnes – very nice and flowered village- Jongieux, Marignieu…) allow you to taste and discover the wines from Le Bugey : chardonnay, roussette aligoté, gamay, pinot, mondeuse…
 Towns to Visit
30 mn driving : Aix -les-Bains
At the gates of the Natural Park of the Massif des Bauges, Aix-les-Bains combines sweetness of life along the water with dynamism.
Rich historical and cultural heritage, gastronomy, local and varied products, whether on water, land or air everything here is a bubble of pleasures between lakes and mountains
30 mn driving : Chambéry
City of Art and History in the heart of the Savoie, Chambery offers to its visitors a very important "preserved area " actively enhanced by its old streetsas well as by its protected historical buildings. You can stroll through the old town, dominated by the Ducs de Savoie Castle.
45 mn driving : Admire the view from the Grand Colombier
Massive figure over the upper Rhone valley and the vineyards of Bugey, the Grand Colombier (1534 m) is the most meridional of the major summits of the Jura mountains.
With the Mont Blanc in line of sight, the panorama includes simultaneously the 3 alpine lakes of Bourget, Annecy and Leman
1 hour driving ; Discover the cities of Geneva, Annecy or Lyon
Sportive Activities
About 500 meters from the gîte: rowing at the port of Les Ecassaz in Virignin on the floodway Rhone
* 10 mn driving : Yenne has two climbing areas.
The guidebook of the site is in Climbing around Lake Bourget by Philippe Mussatto
* 10 km : Leisure base of Cuchet Murs-Géligneux : Lots of varies water activities (water skiing …)
* 30 mn driving : Lac du Bourget  many water sports and activities as well as family boat ride
* 30 mn driving : skydiving, freefall baptism…
* 45 mn driving : adventure trails
* 1 hour driving : paragliding, skiing, sailplane …
  Gite «  Les Grenouilles »  

  Les Ecassaz  Belley (01300)                                 Tél : 0033 / 06 82 18 83 89